Eating with Locals: Hot Dogs in Clifton, NJ
Recently I went on a weekend trip to tour Thomas Edison's lab and Glemont home in West Orange, New Jersey. While there, my travel partner was kind enough to take me on a tour through his hometown of Clifton, NJ. This town has quite a history and we visited many of the significant places. As you might imagine though, all this sightseeing can make a traveler very hungry. Thankfully Ken enjoys eating different foods as much as I do, and he made sure to expose me to a few meals I don't think exist anywhere else. At first I thought I would share these restaurants in the order we ate each meal. However, I think it's better to break it up into the type of food we ate. Part 1: The Hot Dogs
Hot Dogs
I know what you're thinking. Hot dogs? Is she serious? Absolutely! You have never experienced hot dogs until you have eaten them at Rutt's Hut or The Hot Grill. Although the hot dogs are both deep-fried, yes, I said, "Deep-fried!" they are served completely different.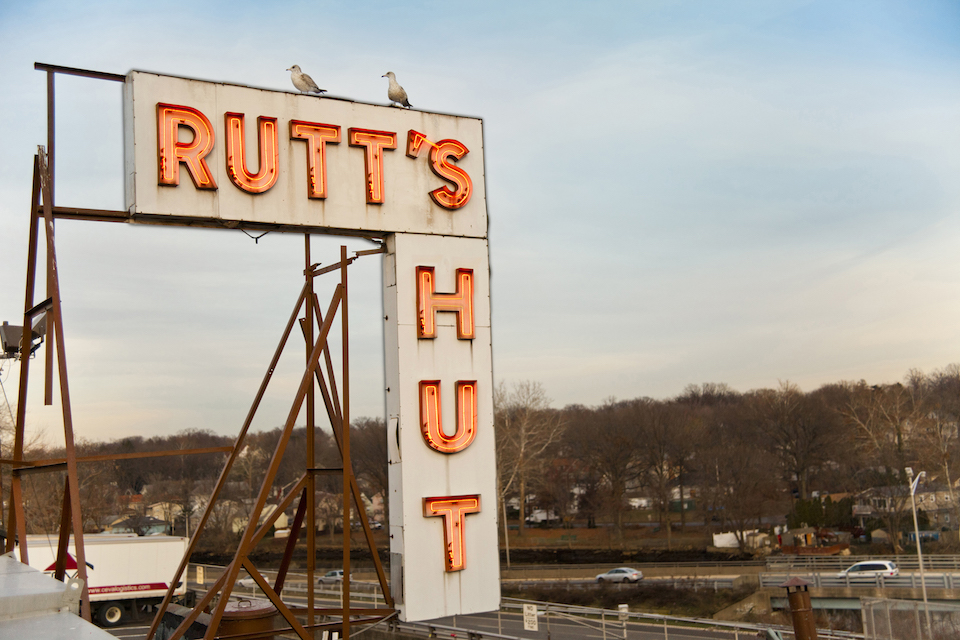 Rutt's Hut
Rutt's Hut original roadside stand first opened in 1928. It's deep-fried hot dogs, with cracked and split casings are nicknamed "Rippers". Of course we had to eat them topped with the secret blend of mustard and spices. We also had French fries, which we ate with the cutest little disposable wooded forks, and birch root beer to drink.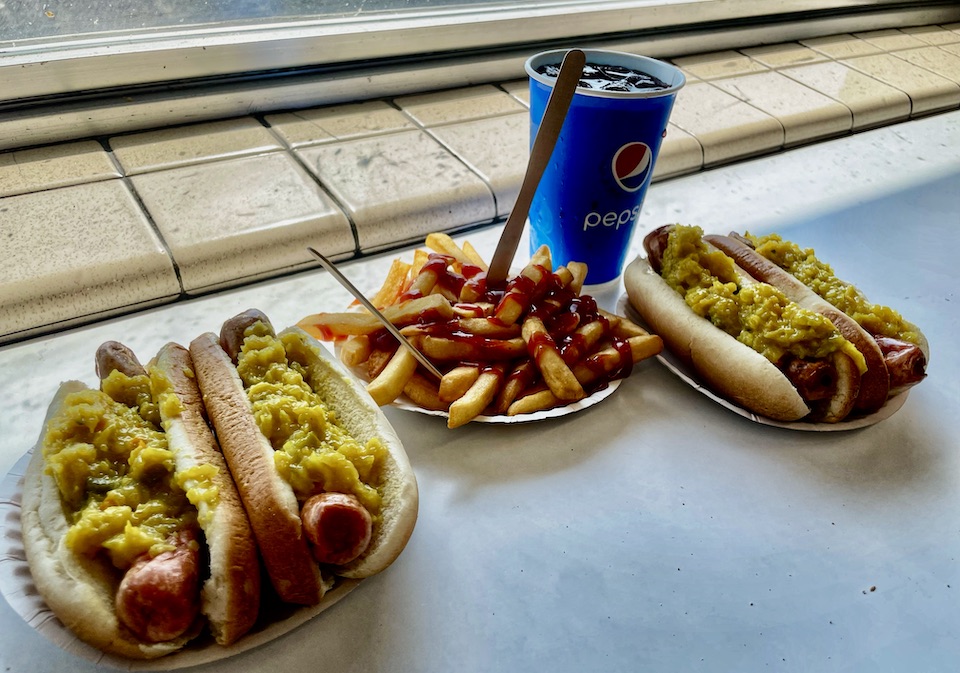 We ate standing at a long bar that faces out the back window. Below this bar is a shorter one, where kids may enjoy their "Rippers" while standing close to their parents. If you want to sit, there is a dining room and bar where you may also eat.
If you're in the area, stop in to try a "Ripper". Make sure you take your time eating it. If you're like me, you'll enjoy hearing the orders called out with those Jersey accents. I could have stayed all day.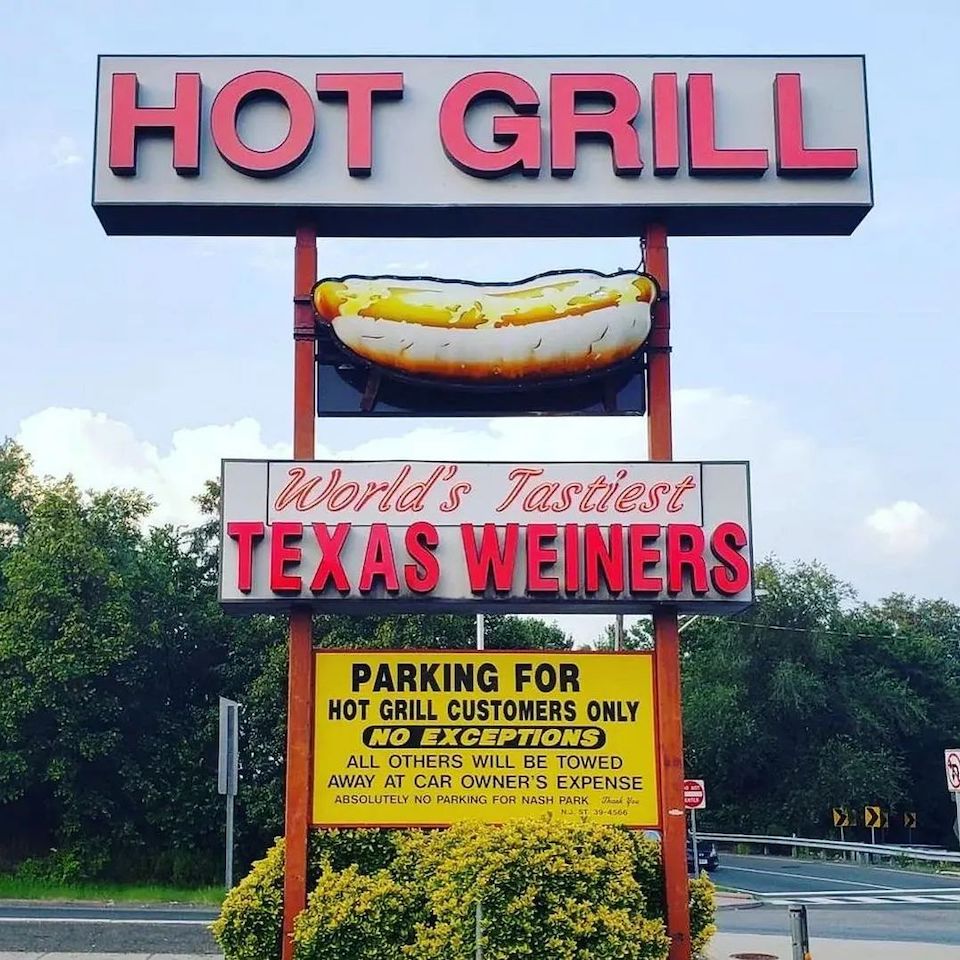 The Hot Grill
If you are in search of the "World's Tastiest Texas Weiner" search no more. I found it at The Hot Grill in Clifton, NJ. It say's so right on their sign!
Since 1961, this local favorite has served deep fried hot dogs in what began in a small building with only 20 stools at the counter. It can now seat 145 guests and offers many other items.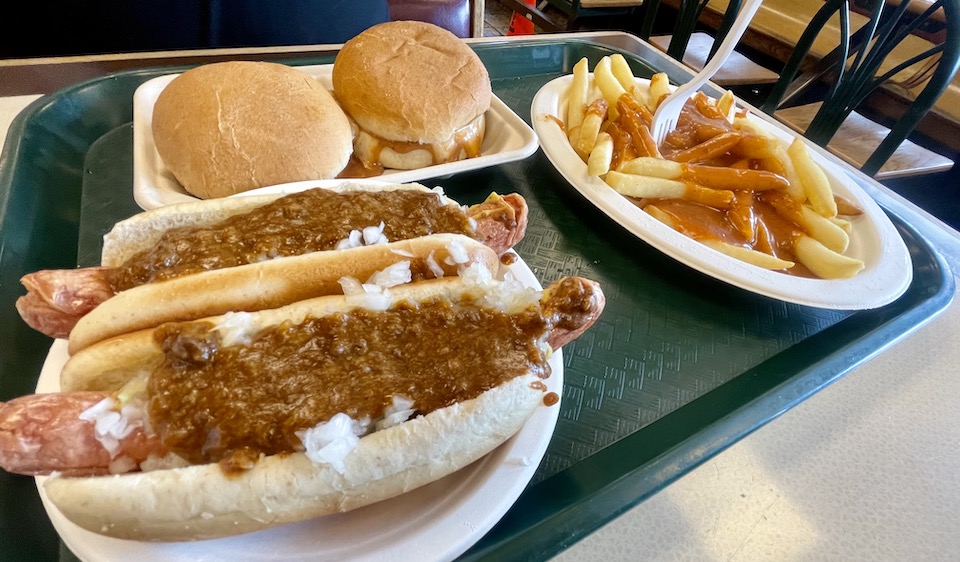 Our yummy lunch included; Texas Weiners "All the Way" (hot dogs with mustard, chopped onions and a secret recipe chili sauce on top),  a side of French fries with gravy (I know … don't judge), and two cheeseburgers with white American cheese and gravy. It was all so delicious. 
If you're wondering which meal tasted better, I don't have an answer. Both were very different and delicious in their own way.
Watch for Part 2: The Mussels coming soon.