Grandma Carrie's Turkey Stuffing Recipe
It's been passed down to 3 generations and I've been given permission to share. Here it is, Grandma Carrie's Turkey Stuffing Recipe.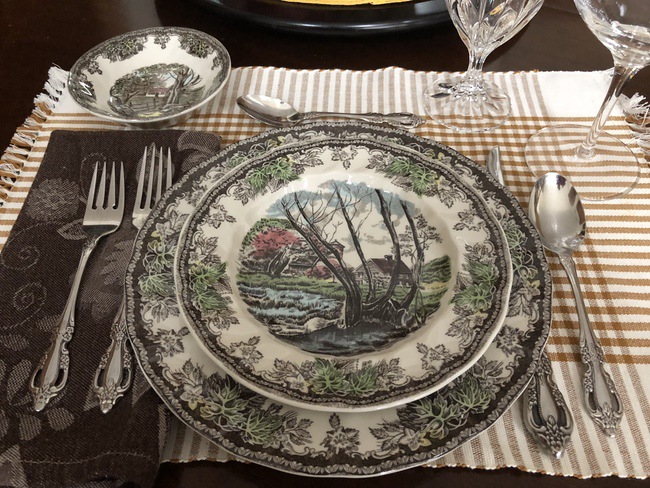 Ingredients:
1 stick butter
2 larger cloves of garlic
4 cups celery diced
4 cups onion diced
3 tbs. parsley minced
3 tbs. chicken base
2 cups mushrooms sliced
1 1/2 loaves dry Italian bread (crust on, ripped in chunks, soaked in water and squeezed dry … but not too dry.)
6 eggs beaten
1 lb. ground Italian sausage (cooked)
White pepper to taste
1 tsp. dry sage
Directions:
Sauté butter, garlic, celery and onion until tender crisp. Add mushrooms and sauté for 3 minutes. Add cooked sausage and chicken base, cook lightly.
Mix soaked bread, eggs and parsley together in large bowl. Fold sausage mixture and bread mixture together. Pour into buttered oven safe dish. Bake at 350° until mixture reaches 180° Should be a loose texture.
Michelle's notes:
I like to add a little more garlic and mushrooms. Also, I use 2 whole loves of Italian bread that I purchase 2 days before Thanksgiving and leave the bags open. For my cooking I use a hotel pan.
Remember, a recipe is just a guide. Use you imagination and tastebuds to make Grandma Carrie Turkey Stuffing Recipe your own.
A little history of Carrie Cerino:
In 1897 Alesandro Cerino arrived at Ellis Island with his 3 brothers. He later settled in the Cleveland area and brought his young bride and eldest son, Dominic, from Italy. Carrie's father, Carlo Coraretti, brought his wife and children from Italy in 1916. The voyage for then 6 year-old Carrie brought forth her independent spirit. She would consistently sneak out from the hold to spend time with the sailors, learning their raucous songs and chanteys.
Dominic met Carrie Coraretti in 1929, and they were married in 1931. In the good old days Carrie Cerino's veal parmigiana disappeared moments after it was served. But in those days, the young bride's culinary creations were tossed out the second-floor window more often than into the stomach of her husband, Dominic. It was a cruel fate, particularly because the less than tasty meal plummeted by the window of an observant mother-in-law. Those quick lessons in pride taught the young Carrie Cerino how to cook and born where the Cerino culinary standards.