Texan Hospitality at Texas Triggers
Are you a fan of Top Shot? Would you love to shoot a variety of guns? Do you enjoy home cooking with Texas hospitality? If you answered yes to any of these questions, Texas Triggers is where you need to spend your next vacation.
Texas Triggers is located on a ranch in Sonora, Texas that was purchased by the Donaldson boys' great-grandfather around 1926, as a cattle ranch. Most people thought Charles "Big Doc" McMillan was crazy for buying that dry, barren land until the oil companies came in. As the years go by though, there has been less & less ranching done on the property.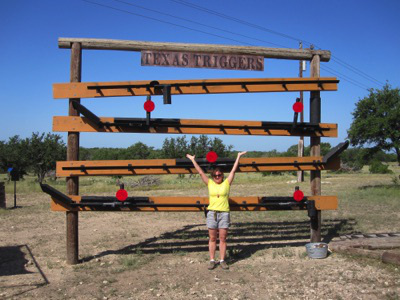 In 2011, Gay Donaldson, the granddaughter of Charles, began a new adventure with her boys Reid and Colby. It started when Colby realized the challenges from Top Shot were just wasting away in warehouses after their use. He contacted the show's creators and found out he was able to purchase them. It was then that the Donaldson boys and their mother Gay, decided to bring the Top Shot experience to Southwest Texas.
My husband Chris is one of the experts at Texas Triggers. Luckily for me, I was able to join him on this trip. Upon arrival at the ranch Gay greeted us with a warm hug, sandwiches and a cold drink. Trying not to seem too nosey I glanced at the kitchen counter and saw there was a stack of handwritten recipe cards and a notebook that listed the menu for the next few days. I was excited about all the home cooking to come.
There are so many personal things I could tell you about our stay. How Gay gave us her room. How Clooney, Gay's dog, happily greeted us every morning. Enjoying quiet mornings and dark evenings on the front porch, watching turkeys, jack rabbits and deer come to the watering hole near by. What I really need to tell you about though is the experience that their "company" had.
Yes, at the ranch, Gay refers to the clients as company. Her exact words were, "Looks like our company is here. Let's greet them at the lodge." The lodge is a beautiful, rustic building with a fireplace and long wooden table that seats 12. As the company arrived their eyes were drawn to that table which displayed all the weapons they would be shooting throughout their stay.
After introductions and safety briefings, we all headed down to the short range. The afternoon began with a lesson on the fundamentals by Chris, followed by the opportunity for everyone shoot various single action army revolvers, lever action rifles and modern day pistols. With targets at various distances, shooters engaged a variety of reactive and non reactive steel targets. It was all there including; falling plates, hostage targets, cowboy silhouettes, chest plates, dueling trees and the challenge from Top Shot Season 2, Cannon Ball Run.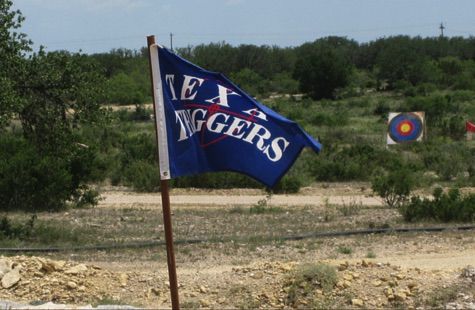 The West wind carried a welcoming smell from the smoker outside the lodge…dinner! Smoked turkey, stuffing and cranberry salad followed by Oreo Smash was graciously consumed by all. After dinner, we all moved out to the front porch, complete with rocking chairs and a fully stocked bar for a relaxing evening.
The next morning we all met again at the lodge then went down to the short range. Homemade breakfast burritos were brought out as guests prepared to shoot competitions that were set up to pit them against each other. Two liter pop bottles hanging from ropes or on posts, shaving cream cans and steel targets. Lot's of stuff to shoot and destroy! We had a lunch of chicken alfredo, salad and chocolate cake, then headed out to the long ranges. There was more competition with guests shooting AR style rifles on one side and the Barrett 338 Lapua and 50 out to one thousand yards on the other. The final challenge for the day was the Bagdad Beer Run. Using a short barreled AR15 they engaged knock down targets while being driven by Colby in a supped up electric off road cart. Most targets down won.
That evening we gathered on the lodge porch for appetizers, including Reid's special bacon candy. Guests shot a crossbow at targets in the watering hole below. Slow cooked beef tenderloin with grape salad, party potatoes and chocolate cherry cobbler for dessert. Then it was back out to the porch for some friendly tomahawk throwing.
The last day was the gauntlet challenge. Everyone split into two teams and competed just like Top Shot. It even included Colby in the background announcing as guests hit, missed and tied while the teams moved along. The Zip Line across water was the Top Shot challenge for the day. Since Chris and I had an early afternoon flight we said our goodbyes. Sadly, we had to leave right as they brought out the variety of international full auto weaponry. Even the 50 BMG!
Gay packed us each a chicken salad sandwich and some homemade cookies for our ride to the airport. It was like leaving family after a weekend visit.
That is what Texas Triggers is all about.
April 27, 2013