Chopped Salad: A Taste of Chicago
My husband and I travel quite a bit. Recently, while in Chicago, we had dinner with friends at Giordano's where you can indulge in, "A Taste of Chicago." As to be expected, we ordered a a few stuffed pizza pies. According the their menu, "It's been verified in true Chicago tradition, our stuffed pies are 40% bigger than our top competitors' deep-dish pizzas!" Yep, they were huge! We also ordered the chopped salad.
Surprisingly though, the hit of the meal was the Original Chicago Chopped Salad. I enjoyed it so much that I decided to create my own copy cat recipe. Remember though, as my Father in-law always says, "A recipe is just a guide." Which means, feel free to tweak the ingredients to suit your tastes.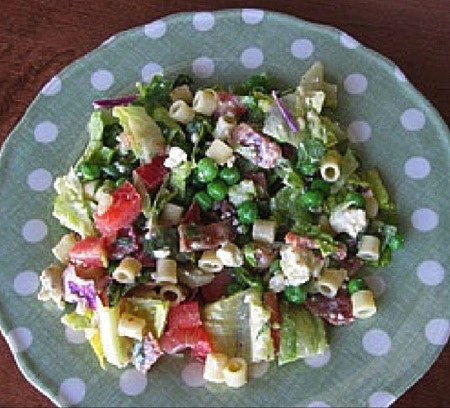 Giordanos' Original Chicago Chopped Salad
interpreted by Princess Gunslinger
Serves:
6-8 people
Ingredients:
     •     8 cups of romaine lettuce. If you buy it by the bag, it would be about 2 bags. Give it some more chops.
     •     2 cups of red cabbage, finely chopped. You can also make it easier and just buy the bagged lettuce with the cabbage already in it.
     •     4 cups of cooked ditalini pasta. Cooled. I usually cook the entire box and use what I need, keeping any extra in the refrigerator for later. 
     •     1/3 cup diced scallions
     •     1/2 cup cooked bacon. Make it crispy so you can crumble it. Also, depending on how much you like bacon, you may want to add a little more.
     •     1 cup of diced tomatoes
     •     1 cup of cooked peas, cooled
     •     1/2 cup crumbled blue cheese. Add more to taste
     •     Honey mustard dressing.
Instructions:
     1     Toss lettuce with cabbage, scallions, bacon and pasta. Add enough honey mustard dressing to coat and toss a little more. Lightly toss in tomatoes, peas and crumbled blue cheese. If necessary, add more honey mustard dressing to taste.
     2     Add some fresh ground pepper to individual salads.
     3     Enjoy!
April 10, 2014